A Court of Thorns and Roses is
Maas
's fairytale retelling of the classic Beauty and the Beast, and BOY what a novel it is.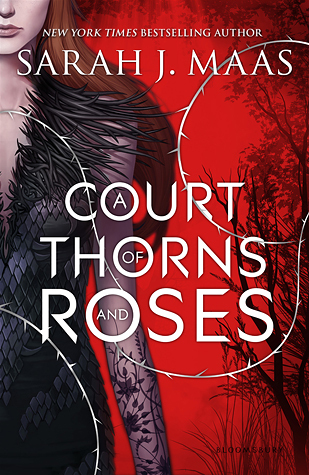 Maas
's writing is fabulous and flawless as usual. The world and the characters she has built are equally as loveable as the ones she has created in Throne of Glass. Her descriptions of Prythian are so vivid; she builds this world with brilliant clarity. Prythian is very different to the world we have experienced in
Maas
's Erilea as this world has magic and strange beasties. I could've read a whole book on Feyre encountering a whole host of weird and wonderful creatures. I am so eager to see what the next books introduce.
Feyre is such a strong female protagonist! She has so much drive and will power,I have so much respect and love for her. You cant not cheer her on all the way through the book, often on the edge of your seat.
Maas
just writes the best hot men. So, SO many swoons. They're all so loveable in their own way, whether it be Tamlin's protectiveness, Lucien's humour or Rhys's brooding. There's been a lot of love for Lucien, he just unexpectedly creeps up and steals your heart. I think after reading so many love triangles and inst-loves I have come to adore strong male-female friendships in novels where they don't end up in love with each other.
I highly admire
Maas
's character building; none of her characters can be labelled wholly 'good' or wholly 'evil'. Feyre makes mistakes and does bad things, and the antagonist has done good things. It makes the characters so real and believable.
Maas
has a great ability to make you like both 'good' and 'evil' characters. For example, Arobynn is quite a despicable person from the Throne of Glass series, but his intelligence and cunning make me love him and enjoy the time he has in the books instead of just wishing he'd hurry up and die for his evilness, and this is how I feel about the 'evil' characters in ACOTAR.
The love story is paced extremely well; it's lovingly built up and is so great to read. Ready your OTP list, reader.
Despite the novel being a retelling,
Maas
makes it as different as possible while still sticking to the original. I love her subversion of the usual fairytale tropes in refusal to make her heroine a damsel, which despite our love for fairytales, are often found in them.
The later parts of the novel are very different to the start, by the end it's hard to believe it's only been one book. The ending is so explosive and leaves you completely aching for the next novel with so many questions that need answers and guessing as to what could happen next.
I would award ACOTAR 4.5 stars.
I think the only thing that makes me think I'm going to enjoy the later books in the trilogy more than the first is that if you know the Beauty and the Beast story, ACOTAR can feel a little predictable. I'm guessing the next two books will expand the world
Maas
has created and further the storyline, moving away from the original story and making it more unique.
Thank you so much to
Bloomsbury
who sent me an arc of A Court of Thorns and Roses!