Here's (a late) what I read in October and what I hope to read this month!
Goldenhand by Garth Nix
Goldenhand is a new installment to Nix's Old Kingdom series, a very lonnnggg awaited new installment. I didn't read the series when it first came out because I was only 6 when Abhorsen came out, but even I feel like I've been waiting forever to rejoin Lirael, Sabriel, Touchstone, Nick, Sam.... I've missed these guys!
Goldenhand is another great addition, it just oozes Nix's unique storytelling. Even after so long away, it was so easy to slip back in with these characters and this world.
The only thing that bothered me about Goldenhand was I thought part of ending was a little convenient. A bit of an anticlimax.
4 stars!
A Shadow Bright and Burning by Jessica Cluess
This one was a bit of a surprise to me. I wasn't expecting to like it so much. I have no idea why. I think from my first impressions I thought the story would be cliched, that I would be able to guess what would happen. But I was pleasantly surprised! The Victorian setting was great and the ideas for the monsters were so unique!
I'm actually really looking forward to the next book! 3.5 stars!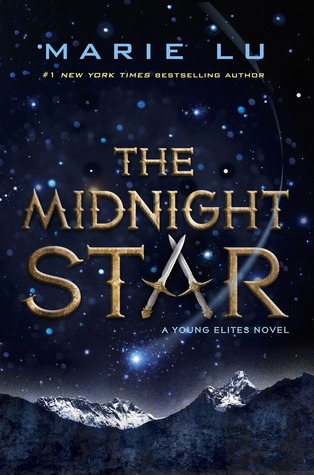 The Midnight Star by Marie Lu
I think I need a full reread of this series. The story was well told and different to any others I've read. Adelina is probably my favourite main character who is technically the antagonist of the series. The Midnight Star was a good and solid ending to the series but I just didn't feel much reading it. I didn't care as much as I wanted to about the characters. It felt like a light fantasy, maybe good for people just starting out in fantasy whereas I enjoy dense and detailed fantasy. I found myself wanting more from the writing. 3.5 stars!
Gemina by Amie Kaufman and Jay Kristoff
I flew through this book. I've never read a story told in the way the Illuminae Files are. The mix of chats, security footage recordings etc make it so interesting, although honestly I think i'd enjoy it more if it was written as a normal novel as I feel disconnected through this storytelling. However, if they had written it any other way than the way it was, it wouldn't be as unique as it is.
I don't read much sci-fi, but I'm glad I read this series. Amie and Jay are so brutal with my heart! They make it soar and then they crush it and I love it!
4 stars!