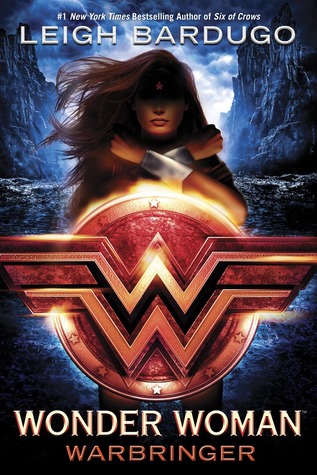 She will become one of the world's greatest heroes: WONDER WOMAN. But first she is Diana, Princess of the Amazons. And her fight is just beginning. . . .
Diana longs to prove herself to her legendary warrior sisters. But when the opportunity finally comes, she throws away her chance at glory and breaks Amazon law—risking exile—to save a mere mortal. Even worse, Alia Keralis is no ordinary girl and with this single brave act, Diana may have doomed the world.
Alia just wanted to escape her overprotective brother with a semester at sea. She doesn't know she is being hunted. When a bomb detonates aboard her ship, Alia is rescued by a mysterious girl of extraordinary strength and forced to confront a horrible truth: Alia is a Warbringer—a direct descendant of the infamous Helen of Troy, fated to bring about an age of bloodshed and misery.
Together, Diana and Alia will face an army of enemies—mortal and divine—determined to either destroy or possess the Warbringer. If they have any hope of saving both their worlds, they will have to stand side by side against the tide of war. (Goodreads)
Leigh Bardugo is one of my favourite authors, so I went into this book with complete faith that she would do Diana justice. I can report that she has done just that.
I'm not someone who grew up with Wonder Woman, I knew of her but I don't think I could've called myself a fan. It's not that I didn't like her but rather due to a lack of exposure to her awesomeness. 2017 brought us the Wonder Woman film, which I eagerly went to see. I will forever wish I'd had that film when I was younger. Now could not be a better time for Wonder Woman: Warbringer to come out.
Since Alia is a warbringer and so a descendant of Helen of Troy brings some Greek mythology into the modern day setting. It's not overwhelming or hard to understand, but it does make you eager to go pick up a mythology book and do some research.
Diana is in her teenager years during this novel, young and eager to impress. You can still expect some amazing action from her, she might be younger but she's still a badass fighter.
The whole cast of characters Bardugo has created is amazing. In the main group the only white character is Diana, which was so refreshing to see. Each one of them is important and interesting, they're not just there purely to gape in awe at Diana from the sidelines.
The dynamic between them was my favourite thing. The strength and complexity of their relationships is wonderful to read. Female friendships and strong women are a big part of the book, including showing that there are different ways of being strong, the ability to fight isn't the only one, which is amazing.
Wonder Woman: Warbringer is the first novel in a new quartet named the DC Icons. 3 other YA authors, Marie Lu, Matt de la Pena and Sarah J Maas. Each will deal with a different superhero during their young adult years. I have high expectations for the others now.
Definitely pick this one up. You don't need an extensive knowledge of Wonder Woman to understand it - it's a story anyone can enjoy.
Bonus pic of me at YALC dressed as Sophie Hatter dressing as Wonder Woman!
Thank you to Penguin for sending me a finished copy to review!