Miryem is the daughter and granddaughter of moneylenders... but her father isn't a very good one. Free to lend and reluctant to collect, he has loaned out most of his wife's dowry and left the family on the edge of poverty--until Miryem steps in. Hardening her heart against her fellow villagers' pleas, she sets out to collect what is owed--and finds herself more than up to the task. When her grandfather loans her a pouch of silver pennies, she brings it back full of gold.

But having the reputation of being able to change silver to gold can be more trouble than it's worth--especially when her fate becomes tangled with the cold creatures that haunt the wood, and whose king has learned of her reputation and wants to exploit it for reasons Miryem cannot understand.
I fell in love with Naomi Novik's storytelling when I read Uprooted back in 2015. Subsequently, I spent the next two years hoping that she would gift us with another fairy tale. And now she has. What I adore about Novik's stories is that they don't follow the usual pattern of fairy tale's. They have a lot more depth, are more complex and lack the cliché's you often find in fairy tales. The characters have hard lives in Spinning Silver and they all must learn to fight for themselves and what they want in their own different ways.
In Spinning Silver there are a few different points of view, some more prominent than others. But each are unique and distinct from each other. I especially liked the way she portrays the character of Stepon. He's much younger than all the other characters, so his way of thinking and seeing the world is different to the others. You really get a sense of his innocence.
Spinning Silver is very women focused, which I love. Each have their strengths and weaknesses and Novik brilliantly shows that there is no one correct way to be strong or brave or smart. They are all strong, brave and smart, but all in different ways to each other. They aren't perfect, and they each do things that you might not necessarily agree with, but that makes them so much more realistic. They make hard decisions in order to stay alive in a tough world dominated by men.
The relationships between the all the characters are wonderful to read. There are friendships, family relationships and romantic relationships. Watching them grow over the book leaves you with a warm feeling inside. Novik does slow burn romance extremely well, it is very subtle in Spinning Silver and doesn't dominate the plot at all.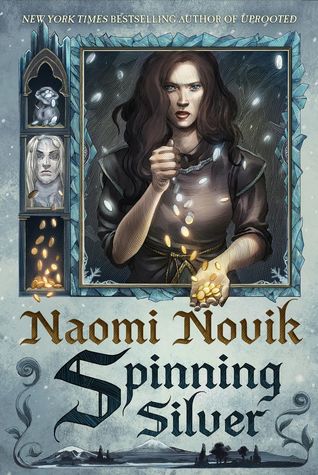 Novik's writing is so atmospheric to read.

It's so descriptive; I always find myself able to picture everything precisely. She managed to transport me to the middle of a snowy wood even as I sat reading in the summer sunshine. Just like Uprooted, Spinning Silver has the same strong eastern-European feel to it.
I really enjoyed the inclusion of religion in Spinning Silver and that it plays such an important role. Novik explores anti-Semitism in a smart way.
Spinning Silver is one of those books that upon finishing, you find yourself already ready to start again. You just know you're going to revisit the story time and time again.
Spinning Silver triumphs because it is strong in every way. Brilliant plot, characters, setting and writing make the novel one of the best books of this year.
I sincerely hope Novik continues writing fairy tales forevermore.
Thank you to Jamie from Pan Macmillan for sending me a free copy to review!