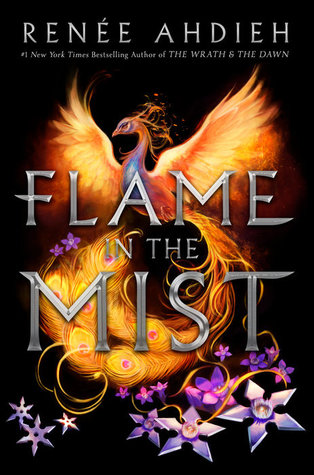 The daughter of a prominent samurai, Mariko has long known her place—she may be an accomplished alchemist, whose cunning rivals that of her brother Kenshin, but because she is not a boy, her future has always been out of her hands. At just seventeen years old, Mariko is promised to Minamoto Raiden, the son of the emperor's favorite consort—a political marriage that will elevate her family's standing. But en route to the imperial city of Inako, Mariko narrowly escapes a bloody ambush by a dangerous gang of bandits known as the Black Clan, who she learns has been hired to kill her before she reaches the palace.
Dressed as a peasant boy, Mariko sets out to infiltrate the Black Clan and track down those responsible for the target on her back. Once she's within their ranks, though, Mariko finds for the first time she's appreciated for her intellect and abilities. She even finds herself falling in love—a love that will force her to question everything she's ever known about her family, her purpose, and her deepest desires.
(Goodreads)
Flame in the Mist is such a wonderful read, from start to finish. Set in feudal Japan it breathes a breath of fresh air into YA fiction.
I kept seeing this being labelled a 'Mulan retelling' but the only way they can be linked is because Mariko dresses as a boy. However, that's not a bad thing! It's still such an epic tale without the Mulan storyline, and it means that you can't anticipate what will happen...
Be prepared to fall easily in love with Renee's writing. It's so addictive. I often find myself rereading parts just to experience her words again. If you've read Renee Ahdieh's first duology, The Wrath and the Dawn and The Rose and the Dagger, i'm certain you'll love Flame just as much. It focuses less on romance and more on Mariko's infiltration of the Black Clan and her life with them. But that doesn't mean there isn't any romance. I freely admit that I swooned multiple times.
The Japanese mythology element really intrigued me, I loved the mysteries of the forest. It gave me major Studio Ghibli vibes. The whole setting was a joy to read,
Renee is great at capturing the setting with her words.
I haven't read many books set in Japan, but I really want to. Japan is such a beautiful country and YA needs more Japan-based novels.
Mariko is a fantastic heroine. She's intelligent and resourceful, but not without her flaws.
Every character interested me. They all had stories and secrets. They were all complex, real people. Complicated characters keeps things exciting.
The ending has me desperate for book 2. But first, I'm going to enjoy rereading this a couple of times.
I read this as an ebook from Netgalley.